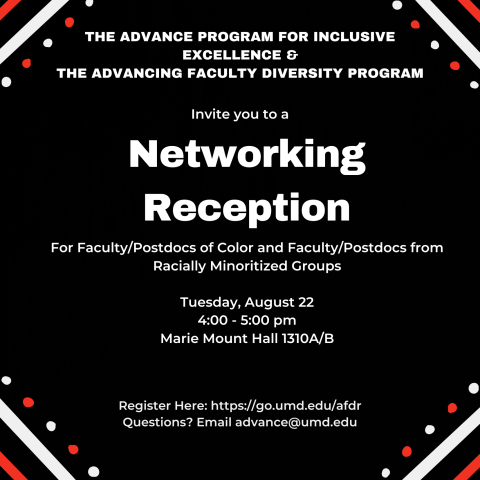 The ADVANCE Program for Inclusive Excellence will host a networking reception for faculty and postdocs of color and/or from racially minoritized groups on August 22. The reception is open to all new/returning faculty and postdocs - regardless of whether they have participated in an ADVANCE peer network in the past or plan to in the coming year.  
The reception will also be the official kick off for the ADVANCING Faculty Diversity (AFD) peer network.  Hosted by the ADVANCE Program for Inclusive Excellence and facilitated by Dr. Akua Asa-Awuku, Professor and Associate Dean for Diversity, Equity, and Inclusion in the A. James Clark School of Engineering, AFD meets regularly throughout the year to promote professional development and career navigation at UMD for faculty of color and racially minoritized faculty. Faculty and postdocs of all genders are welcome. 
AFD Networking Reception
Tuesday, August 22
4:00 - 5:00 pm
Marie Mount Hall 1310A/B
Register For the Reception Here.
More information and registration for 2023-2024 AFD Peer Network: https://advance.umd.edu/node/117
Questions? Email advance@umd.edu