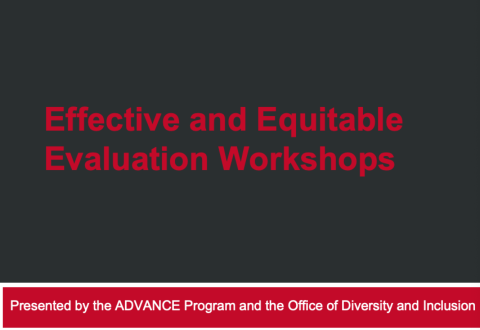 The ADVANCE Program and the Office of Diversity and Inclusion offer workshops on Effective and Equitable Evaluation Workshop for faculty and staff involved in faculty review (e.g., advancement, promotion, and tenure committee members; advancement, evaluation, and promotion committee members; annual review committees; merit review committees). Workshops will examine aspects of review policy and practice that can be enhanced to make review more effective and equitable, including discussion of how committees can fairly take into account the impact of COVID-19. Workshop content will be adaptable to a range of faculty review contexts; however, each workshop will focus specifically on issues pertaining to either tenure and tenure-track review or professional track faculty review.
In 2022-2023, most workshops will be facilitated in partnership with Equity Coaches, faculty and staff who have been trained in inclusive hiring strategies and best practices for mitigating bias. Learn more about the Equity Coaches Program here.
Departments/units may also wish to invite to ADVANCE/ODI to conduct the Effective and Equitable Evaluation workshop for all department/unit members (e.g., at a department or college-wide meeting). Depending on capacity, we are happy to schedule these unit-specific workshops.
Workshop Dates and Registration (You must be logged into your UMD Zoom Account to register):
PTK Focus - Thursday, January 19, 12:00 - 1:30pm | Register
TTK Focus - Friday, January 20, 1:00 - 2:30pm | Register
Dates for February and March 2023 TBD