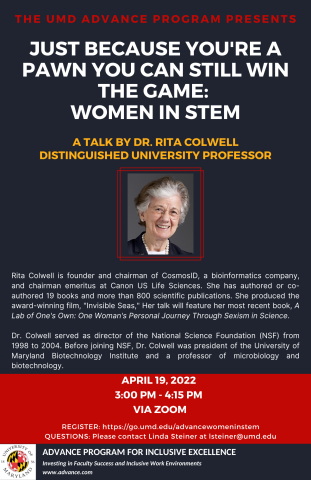 The UMD ADVANCE Program presented a talk by Rita Colwell, Distinguished University Professor, titled Just because you're a pawn you can still win the game: Women in STEM.
Rita Colwell is founder and chairman of CosmosID, a bioinformatics company, and chairman emeritus at Canon US Life Sciences. She has authored or co-authored 19 books and more than 800 scientific publications. She produced the award-winning film, "Invisible Seas," Her talk will feature her most recent book, A Lab of One's Own: One Woman's Personal Journey Through Sexism in Science. Dr. Colwell served as director of the National Science Foundation (NSF) from 1998 to 2004. Before joining NSF, Dr. Colwell was president of the University of Maryland Biotechnology Institute and a professor of microbiology and biotechnology.
You can view the recording here. You must be logged into your UMD account to access the recording.